Things To Do in Central Otago
Clyde is at the heart of Central Otago's majestic landscape and is the perfect base from which to explore the area by car, by cycle, on foot or by water.
Cycling
Cycle Trails abound in Central Otago's impressive landscape. Clyde is at the start or finish of two of the country's best known and most popular trails.
The first, New Zealand's original and premier cycleway, the Otago Central Rail Trail, stretches for 152 kms along the former route of the Otago Railway and is a journey into the region's heartland. Suitable for most abilities, this well graded trail passes vineyards, crosses over viaducts and through tunnels, passes farmland and old mining settlements with the ever-changing mountains and dry, rocky hills as a backdrop.
The second, the newest and much-lauded Lake Dunstan Trail, links Clyde and Cromwell. The trail offers cyclists a challenging 55km ride (Grade 2-3) through unique and fascinating landscapes so characteristic of Central Otago as it journeys along Lake Dunstan, the Kawarau River and the mighty Clutha River Mata-au. Marvel at the man-made landscapes (clip-on boardwalks, an 86m suspension bridge, and impressive rock walls), the rich Maori and early pioneer history, and through the vineyards of Bannockburn.
There are other trails close-by to Clyde. After passing through Alexandra, the Roxburgh Gorge Trail takes you down the side of the Clutha River for 34 kms before arriving at the Roxburgh Dam. Requiring moderate fitness, this pretty trail is a riot of colour in Autumn when willow trees on the water's edge turn brilliant gold and in the summer the emerald waters of the river are a wonderful contrast with the dry, burnt rocky hills that it flows through. This links to the Clutha Gold Trail, a highly memorable multi-day ride between a series of quiet rural settlements, nestled amidst striking mountain ranges. At 73kms long the trail ends at Lawrence.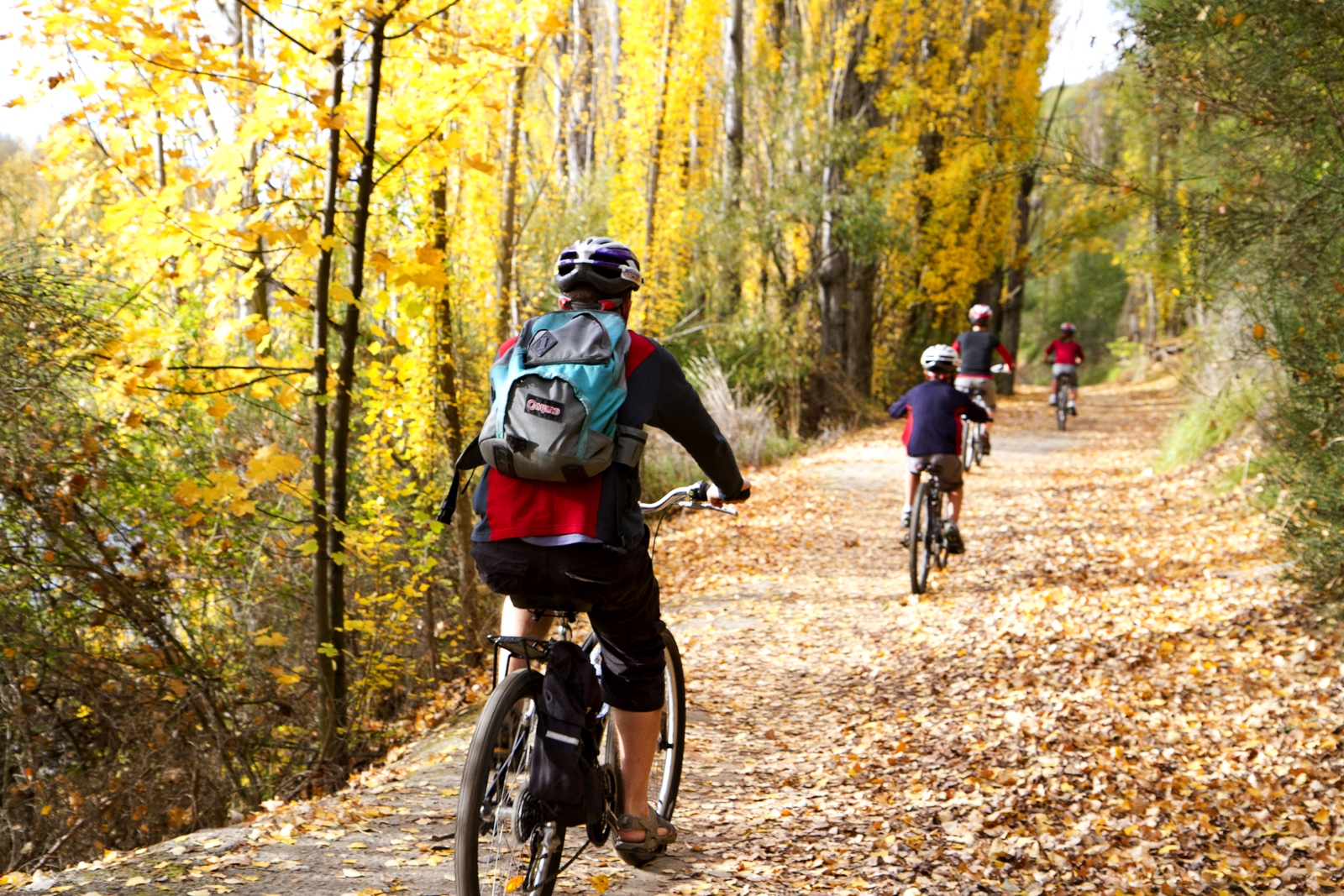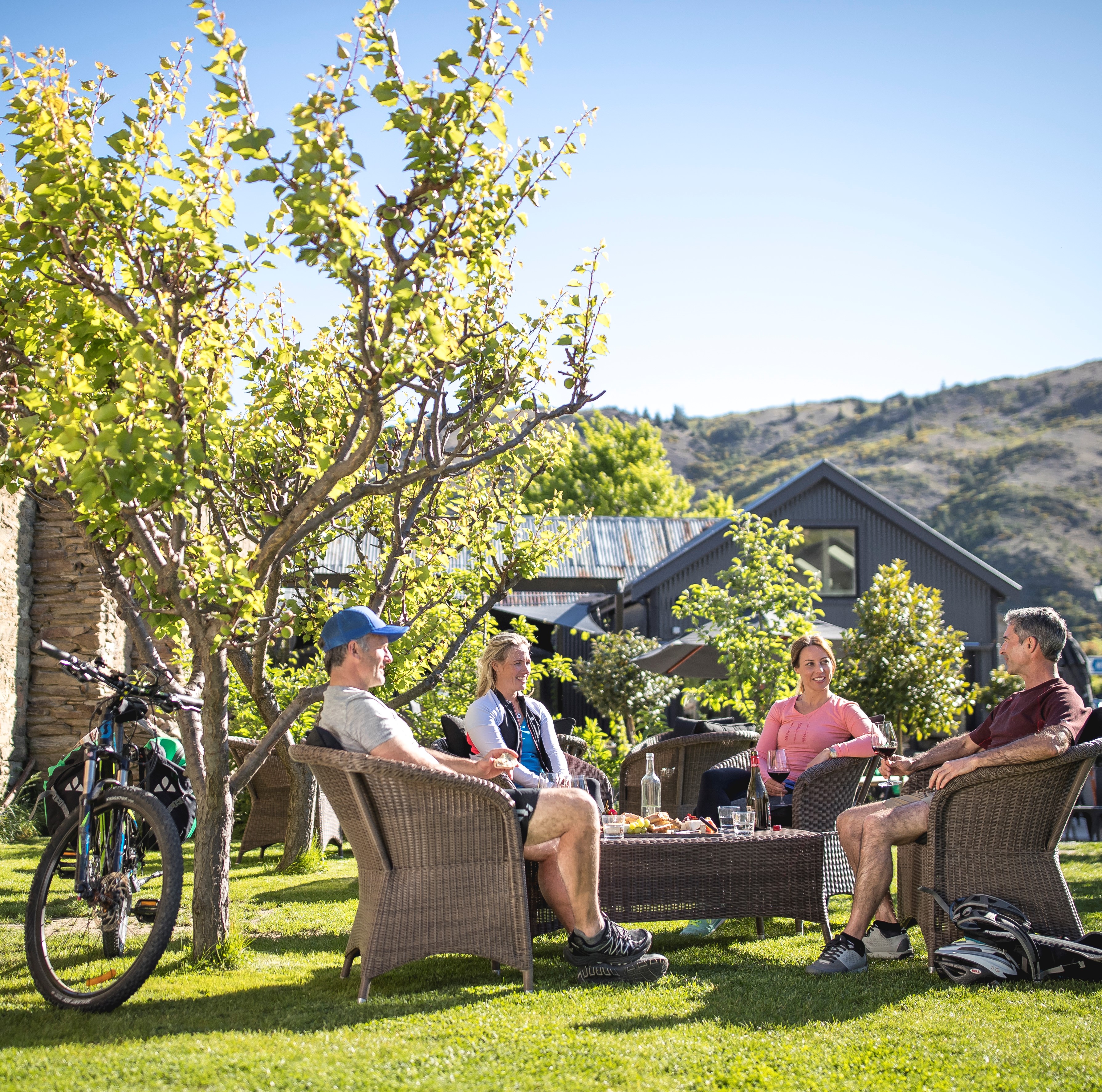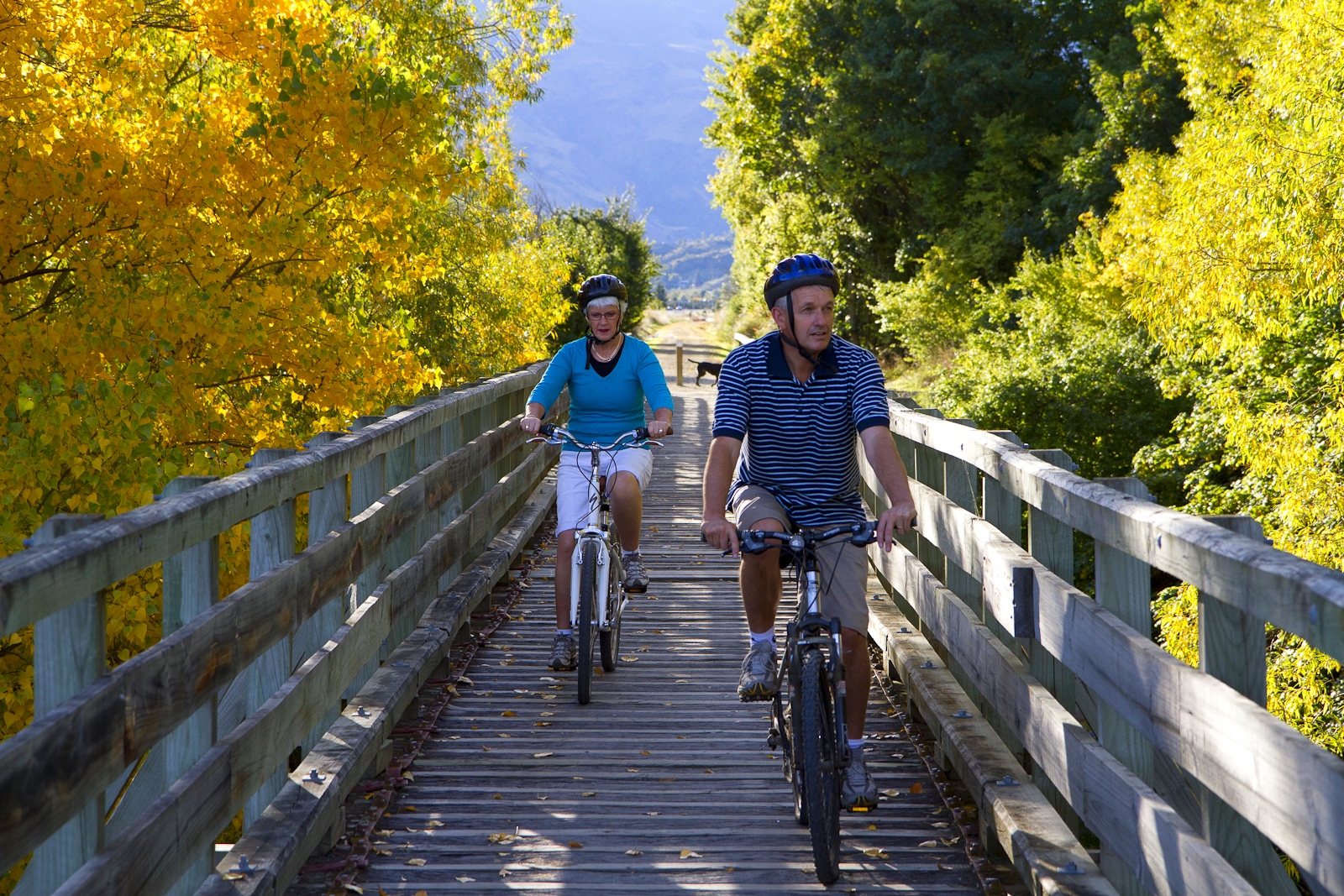 Other Things to do:
Take a wine tour and sample award-winning wines at some of the most scenic vineyards in New Zealand.
For the adventurous traveller there are four-wheel-drive, flying, motor-racing and jet boating experiences and for those in search of a little culture, the Central Otago Arts Trail will interest visitors with its mix of painters, potters, sculptors and photographers.
Add to this some wonderful local restaurants and cafes and you have a menu of activities that will satisfy any appetite.
Vineyards and Wine Tours
Central Otago is a spectacular setting for vineyards - rugged mountains, beautiful lakes and deep river gorges - this unique terroir is world renowned for producing premium quality wines, especially Pinot Noir.
There is a long history of winemaking with the region's industry pioneered in Clyde in 1895 by French immigrant Jean Desire Feraud. His Monte Christo wines won wide recognition.
The Alexandra Basin, with over 20 producers, lies below the southern 45th parallel and to the south of all other Central Otago sub-regions. This unique spot on the globe creates New Zealand's only continentally influenced wine growing region, providing a challenging, yet very rewarding, grape growing environment. Start at Clyde (numerous options for cycle hire available) and enjoy a day of cycling, wine tasting and a picnic somewhere along the way – a great way to experience the region and its wines. Pick up an Alexandra Basin Wine Map to see the location of all of our vineyards and producers, together with notes on the region.
Within 30 minutes of Clyde we have a number of other well-known sub-regions. Take a guided tour or an independent drive through these areas visiting the vineyards and tasting Central Otago's distinctive wines. We have wine maps and can assist with arranging a guided wine tour.
Bannockburn on the southern banks of the Kawarau near Cromwell is a very warm, dry district where grapes ripen early on sandy, silty loam soils. The altitude here ranges from 220 to 370 metres in an area known by miners as "the Heart of the Desert".
The Cromwell Basin contains the largest concentration of vines in an area bounded by the Kawarau River, Lake Dunstan and the Pisa mountain range. It is a warm, early ripening district dominated by semi-arid, flat to undulating high terraces and moraines and gently sloping fans.
Bendigo, lying east of the Clutha River and Lake Dunstan, has both intermediate (220 metres) and higher terraces (330 to 350) planted in grapes. This warm area has semi-arid, variable depth, free draining soils at the lower levels with shallower soils higher up.
The Central Otago Wine Region (Source – COWA)
Terroir: The parts of the land where grapes are grown lie mainly within the semi-arid inland basins of the region and typically experience hot summers, cold winters and long dry autumns. These inland basins are part of a succession of mountains and valley floors, of old river terraces, scarps and fans. Those qualities of landscape, soil, climate and aspect combine to form a unique Central topoclimate.
Temperature: Central Otago has a distinctive semi-continental climate, found nowhere else in New Zealand. It is one of the hottest, coldest and driest regions in New Zealand. The highest recorded maximum temperature is 38.7 degrees Celsius and the lowest –21.6 degrees.
Rainfall: The Alexandra Basin has recorded the lowest annual rainfall in New Zealand - 211mm. Rainfall is spread fairly evenly during the year with a winter minimum and a summer maximum. High evapotranspiration largely negates this and severe soil moisture deficits develop during the October to April growing season. Humidity is low being about 65% in the morning falling to 30% in the afternoon.
Wind: Wind in the valley floors is strongly influenced by the surrounding mountains and tends to be northeast or southwest. Winters are calm and spring and early summer are windy.
Soils: Central Otago soils are moderately old (often windblown loess) formed over successive ice ages as the glaciers ground schist rocks to a fine flour. Layers of loess at various depths are interspersed with river gravels with the addition of sandier soils formed by water erosion. The low rainfall keeps leaching effects low so there is a good level of minerality present but low levels of organic matter.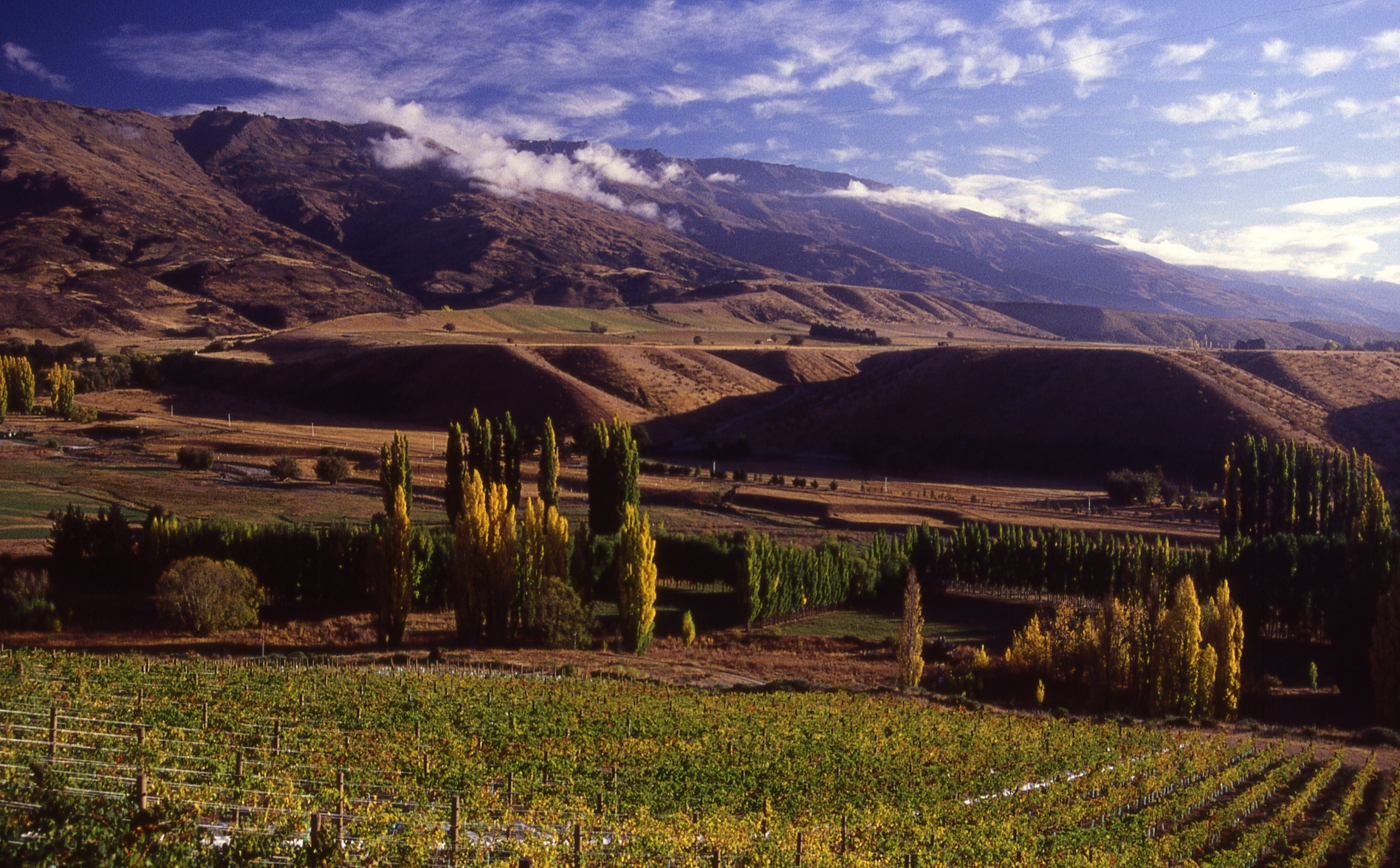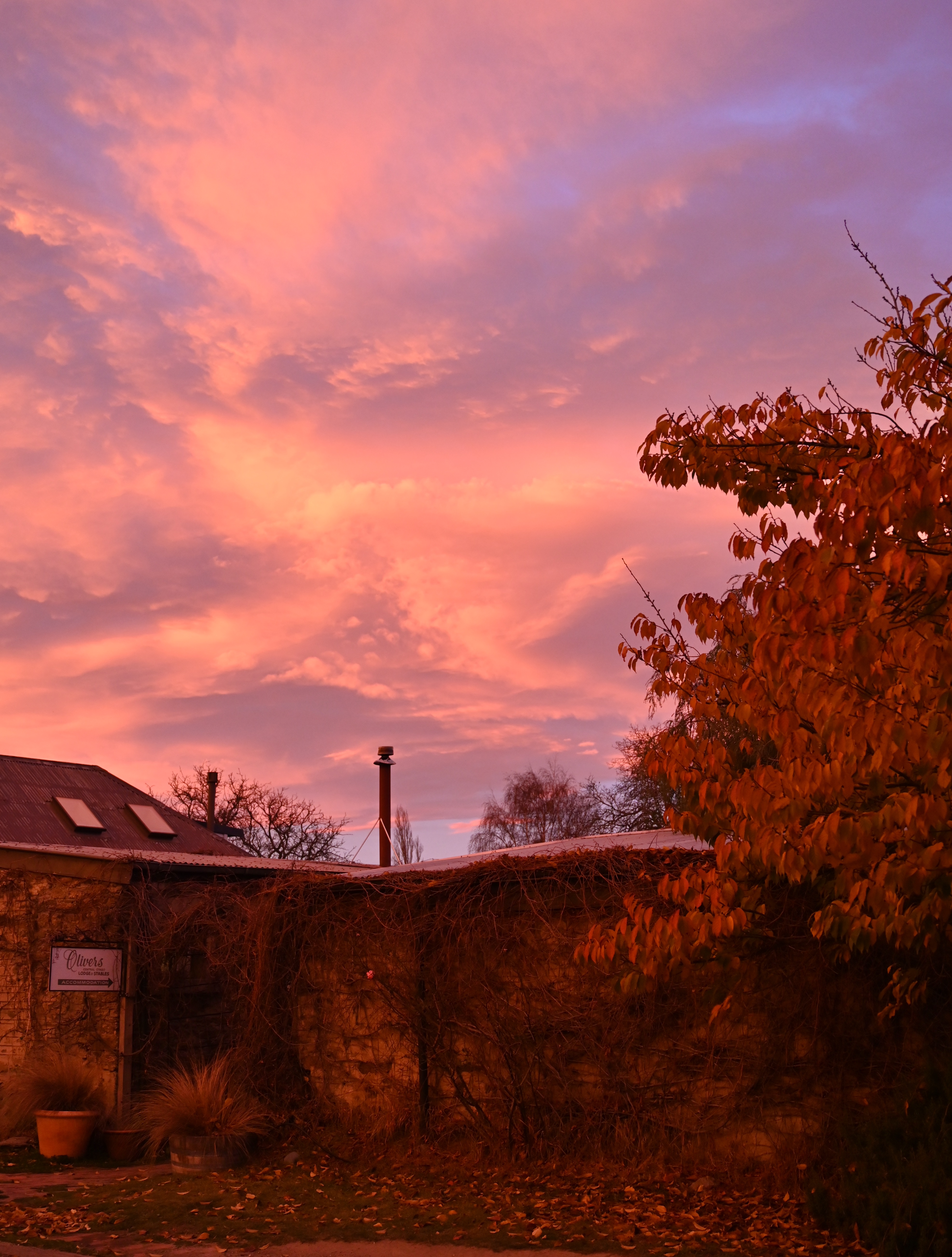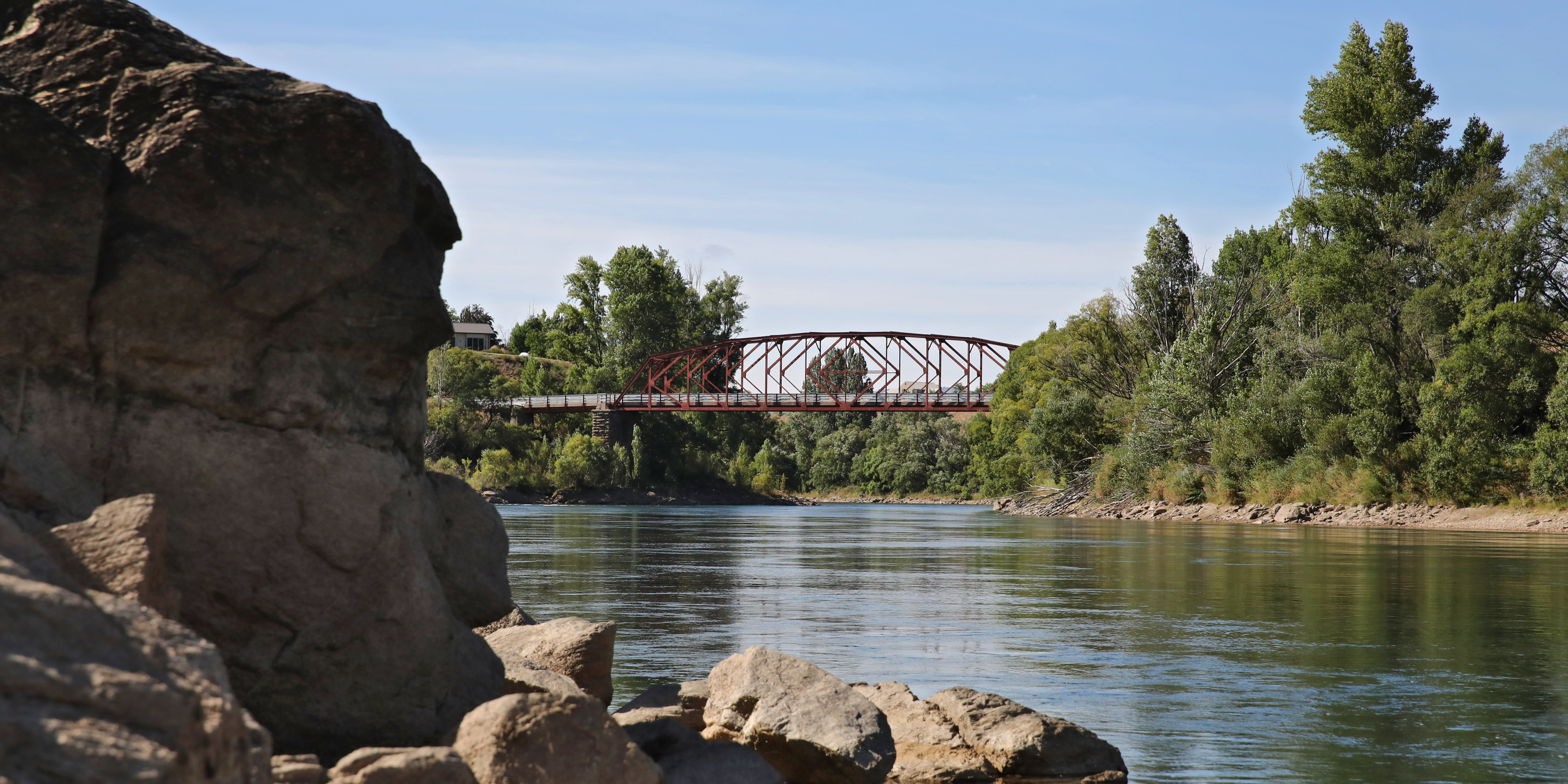 Walking
From gentle strolls around the pretty town of Clyde with its historic buildings to more energetic undertakings, there are numerous picturesque walks in this beautiful part of New Zealand. Whether it is stunning scenery that changes dramatically with each of Central Otago's four distinct seasons or the fascinating history of the 1860s goldrush, there are a myriad of possibilities. We can assist you with ideas on walks of different duration, interest and intensity.
Water Activities and River Cruising
Lake Dunstan, formed by the Clyde Dam construction, is a summer destination for boaties, water-skiers, kayakers, yachtsman, rowers, swimmers and fisherman.
Just downstream from Clyde, you can take a guided boat cruise on the Clutha River. Listen to the stories of its amazing history and geology whilst taking in the spectacular scenery.
You can explore gold miners huts that date back to the 1800s and have time to sit on the banks of the river with complimentary refreshments whilst taking in the sights and sounds of this majestic river. Bookings are essential.
Jet Boating and Gold Experience
Located on the banks of the spectacular Kawerau Gorge, the Goldfields Mining Centre is a historic reserve some 25 hectares in size with mine shafts and tunnels, machinery, the Chinese village and many other heritage sites. Whilst here, take a 40-minute jet boat ride through the Kawerau Gorge - guaranteed to thrill and entertain you.
4WD Experiences
Whatever the time of year Central Otago's beauty is spectacular, so why not take some time out to experience the stunning local landscape.
Taking to the hills in a 4-wheel-drive offers marvellous views and exhilarating experiences. Local tour companies can organise personalised day trips and usually operate between September and April.
Flying and Scenic Flights
Get a bird's-eye view of Central Otago's breath-taking landscape. From snow-capped rugged mountain ranges, to the regimented plantings of the vineyards and orchards, to the Clyde Dam and man-made Lake Dunstan, and the numerous cycle trails.
Options are fixed wing with Fly Alexandra where Nick promises some jaw-dropping scenery on your flight. Alternatively, enjoy a scenic helicopter flight with Richard and experience an alpine/ snow landing.
We can assist with arranging flights.
Go Karting / Car Racing
The Highlands Motorsport Park near Cromwell (20 minutes from Clyde) has a fabulous motorsport museum, a world-class go-kart track with German built Rimo Go-Karts capable of speeds of up to 50 km/hr, Dirt Buggies for some off-road action, and of course the international standard race track where you can enjoy the thrill of a fast lap ride in a Porsche GT3, the Highlands Lamborghini, or a V8 Supercar.
Arts
Central Otago is home to many talented artists, and information on their studio times and location is available. Ask us for a copy of the Central Otago Arts Trail brochure.
Eade Gallery are located across the road from Olivers and represent the works of over 30 local Central Otago artists. Hullabaloo art space is a collective of Central Otago artists, having its headquarters in Old Cromwell Town and also well worth a visit.
Museums
Two museums are within walking distance of Olivers; the Clyde Museum and the Briar Herb Factory Museum. Experience family histories, photos, relics and stories of early gold-mining days. Opening hours are dependent upon the time of year so please feel free to check with us.
Golf
There is a pleasant nine hole golf course less than 10 minutes' walk away, here in Clyde. Otherwise, Alexandra Golf Course, a beautiful 18 hole country course is 10 minutes' drive or the Greg Turner re-developed Cromwell Golf Course is only 20 minutes' drive.
Winter Skiing
Within just over an hours' drive we have Coronet Peak, the Remarkables, Treble Cone and Cardrona - the premier ski fields for the Southern Lakes District. Olivers is well placed for you to base yourself to enjoy this winter activity.
Cinema
Clyde Cinema, across the road from Olivers, shows all the latest movies in a luxurious 42 seat cinema. Relax with a glass of wine, or coffee – multiple screenings per day.